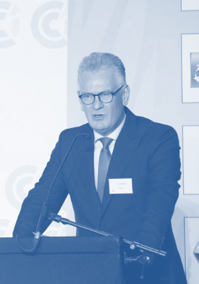 Frédéric Gebruers
Founder & Managing Partner
"The most rewarding part of my work is helping leaders, boards and HR teams, recruit talents and personalities who make the difference in their organisation and able to succeed in a disruptive market"
Frédéric benefits from more than 30 years of Management Consulting experience.
In his career of Executive Search Consultant, Frédéric has handled with success more than 350 assignments at board, executive and senior levels. He has specialized in the financial (private banking, investment banking, commercial banking, trading), energy, manufacturing and construction / real estate  sectors.
In 2020, Frederic decides to launch Bridgefy Partners, an independent Executive Search & Leadership Consulting Firm, based in Geneva.
Prior to Bridgefy Partners, he co-founded, with an international consulting group an Executive Search Consulting Company. He managed and developed activities in Switzerland, France and Spain during nine years.
Before, Frédéric worked during seven years with an international Executive Search Group, as Executive Search Consultant, and two years for a strategy consulting firm, as Senior Partner and Sales & Marketing Officer.
From his career beginning and for 15 years, he was Partner with a Big 5, both in Paris and Geneva, where he co-built the Business Consulting Practice in Geneva, developing a team of 60 business consultants. He was in charge of various local and European projects in the Strategy, Process and Information Technology fields.
Frédéric holds a Master degree in Information Technology from the Institut Supérieur d'Electronique et du Numérique (ISEN – Lille / France). He was appointed "Advisor for foreign trade of France" (Conseiller au Commerce Extérieur de la France) from 2011 to 2020.
He lives in Geneva, speaks French and English. He has three children.